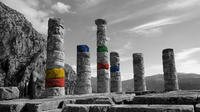 Delphi: the Google of the ancient world self-guided mobile tour. For 1000 years Delphi were the ultimate search engine. The tour highlights the unknown aspects of Delphi and uncovers the lives of the people who came here in search of guidance or simply as tourists.
This is a self-guided mobile tour provided by our tour-guide app. The tour is based on an award-winning storytelling concept and the fascinating narratives prepared by handpicked destination experts. Enjoy this multilingual tour by using your Android or iOS smartphone or tablet at your own pace, even if you are offline. The interactive map on your screen will guide you step by step to explore all the points of interest along your route. Each stop comes with a selection of signature stories, allowing you to tailor this experience to your personal interests and schedule.
*Ticket / entrance fee to the archaeological site is not included!
Categoría: Tours y visitas turísticas.
Inicio en: Delphi, Grecia.
Duración: 70 minutos.
Precio: 11,99 euros.